Elise Christie has been backed to stick with short track and pursue an elusive Olympic medal in Beijing in four years' time.
Despite her second consecutive calamitous Games, which came to an end when she was double-disqualified from the 1500m heats on Tuesday, the 27-year-old has already committed to pursuing belated glory in 2022.
GB short track's performance director Stewart Laing backed Christie's stance which came moments after she hobbled off the ice after finding her fate sealed by the post-race jury.
Laing said: "It is great from my perspective. Elise has got huge potential and she is currently the world number one.
"We will go back and she will potentially take some time off and give her body a rest.
"Four years of an Olympic cycle is hard given how she trains and how dedicated she is, so she will do that and then focus on Beijing.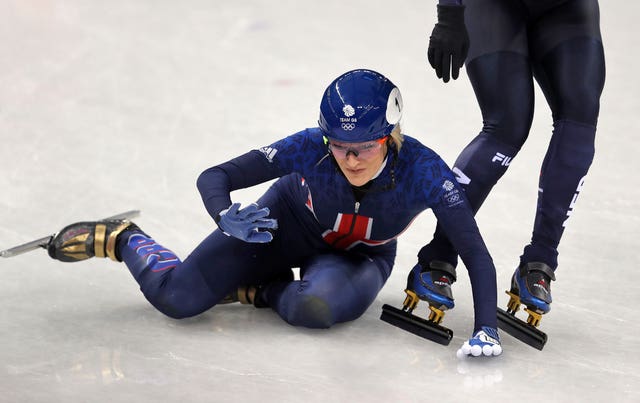 "From a performance director's perspective, an athlete saying they want to continue is a fantastic thing to hear."
Christie has found her racing style questioned by some after her second consecutive Olympics nightmare, with triple disqualification from her second Games in Sochi four years ago followed by another tale of woe in Pyeongchang.
After being knocked down in the 500m final on the Games' opening weekend, it was Christie's error which saw her slide into the barriers in the 1500m semi-final and sustain the ankle injury which effectively ended her Games.
Clearly struggling, Christie picked herself up from a first-bend crash to muscle through the field on the re-start of her 1000m heat, only to pick up a yellow card for two disqualification offences from the judges.
Laing added: "Elise is hugely powerful and you can see that from the fact she holds the 500m world record.
"This is a sport of tactics and overtaking, and one of the things we have worked really hard on with Elise is being able to have that power with the overtaking.
"For Beijing what I would like to see with Elise is that she has the ability to race from any position on the track."